Social Buttons
Uniquely handcrafted of bent hardwood, these Sock Hooks balance perfectly on the mantle even when christmas stockings are filled.
Mr. Claus will marvel at the beauty of these simple but functional wood Christmas stocking hangers. Order your Sock Hook Stocking Hangers today — the perfect complement to Annie's Woolens Christmas Stockings. Space between top and bottom knobs is 4″. Works perfectly with a recessed mantle. Made in Maine.

---
Eco-Friendly 100% Wool Dryer Balls Made in the USA
We are SOLD on these NEW all-natural, re-usable Dryer Balls! Made of 100% wool from the same company that supplies our wool yarn for our Knitted Christmas Stockings, these dryer balls will save you money and provide years of use and benefits.
Use Dryer Balls in place of fabric softeners and dryer sheets.
---
Annie's Woolens Stocking Liners
Preserve the heirloom quality of your Annie's Woolens Personalized Christmas Stockings and Christmas Stockings you have knit yourself using Annie's Woolens knitting kits. Our NEW attachable cotton Stocking Liners are easy to insert into the stocking for a lifetime of overfilling by Santa without snagging or stretching! Santa will think they look great too! Handcrafted by Annie's Woolens on our premises in Eagle River, WI.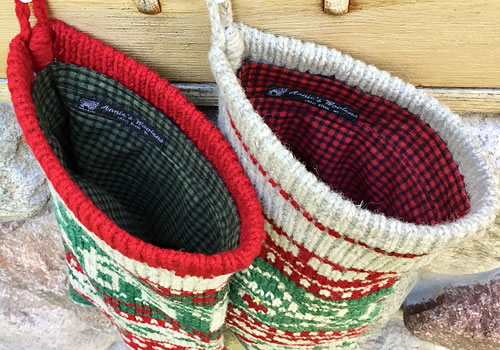 We recommend that these liners remain in place as removing them will pull at the wool fibers and may cause breakage.

Watch the how-to video on our blog showing how to position the cotton stocking liner inside one of our stockings so that it fits perfectly. Our NEW originally-designed Stocking Liners add a stunning finished look to the inside. No more snagging, no more stretching!