Begin a family tradition with Annie's Woolens handmade personalized Christmas stockings. Each 100% wool personalized stocking is individually knit or hand sewn with the finest of materials to ensure quality that will last generations. Embroidered names add a personal touch, making them the perfect gift for any occasion. Be sure to commemorate a special birthdate or wedding date with our personalized date option on the back. All personalized Christmas stockings are made on our premises in Eagle River, Wisconsin, U.S.A. Shop now!
---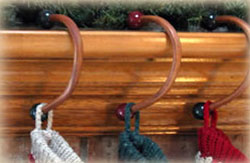 We have searched high and low to select unique Stocking Stuffers which we are confident you will enjoy: Handcrafted Wood Sock Hook Christmas stocking hangers, Wool Eco-Friendly Dryer Balls, and NEW Insert Stocking Liners. There's something for everybody in this shopping section!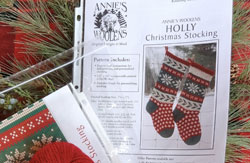 Enjoy the experience of creating knitted, wool wearables and gifts for family and friends! Mittens, rolled brim hats, vest, and personalized Christmas stocking knitting kits and patterns available.
---