Social Buttons
Christmas Stockings eBook
Now you can enjoy Annie's Woolens entire collection of current Christmas Stocking knitting patterns in one eBook! Choose from Annie's 15 knitted patterns. eBook includes color charts, alphabet charts and instructions for knitting each one. You can download the entire collection for the cost of buying just under 3 patterns separately! Prepare for the holidays early and begin your holiday knitting NOW!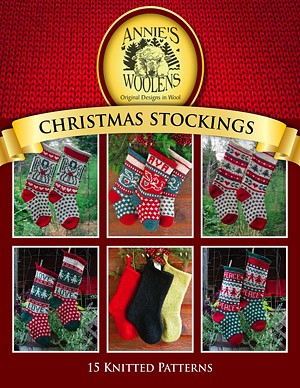 Our eBook includes the following 15 knitting pattern designs:

Angel * Baby Angel * Bear * Cabin * Cat * Dog * Evergreen * Felted Stocking * Holly * Joy * Love * Moose * Peace * Ragg * Snowman.
All patterns in this eBook include
Easy-to-read instructions for full-patterned and personalized stocking.
8.5″ x 14″ commercially-printed COLOR chart.
Alphabet chart for personalizing your stocking.
Ebook: $24.50
Ready to start knitting right now?
We've partnered with RAVELRY.COM to make all our knitting patterns available for INSTANT DOWNLOAD so you can begin your project immediately. You do not need to be a Ravelry member to buy and download our patterns from Ravelry.