Social Buttons
For Hand Knitters…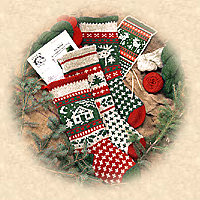 Are you a hand knitter? Knit your own Christmas Stockings on circular needles! Knitting patterns and Knitting kits included full COLOR chart, alphabet chart to help you personalize your Christmas stocking, and clear knitting instructions. Knitting kits also included enough wool yarn to hand knit one Christmas stocking. Choose from 17 designs.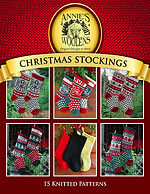 Now you can enjoy Annie's Woolens beloved collection of Christmas Stocking knitting patterns in one downloadable Christmas Stockings eBook! Choose from Annie's 15 knitted patterns. Includes color charts, alphabet charts and instructions for knitting each one. Prepare for the holidays early and begin your holiday knitting NOW!
---
Knitted Accessories: Hats and Mittens Knitting Patterns
Stay toasty warm even on the coldest days with these knitted accessories: Toasty Sock Yarn Mittens, Double Roll-Brim Storm Hat, Nordic Hat and Mittens, Elegant Mohair/Wool Mittens and Nubby Noro Mittens. Our beautiful Mohair Mittens are an easy-to-knit circular design on Size 10 needles as are our wool Nordic Mittens. The Nordic and Double-Roll Storm hats are quick and easy weekend projects. Knit them and go! The new Nubby Noro Mittens are a light-weight, textured mitten that says "WOW" with color. Click on image for pattern and details.
---
Sweaters, Shawls, Ponchos, Ect.
The quick 'n easy Dropped-Stitch Ladder Poncho pattern makes up into an elegant unforgettable showpiece for your wardrobe. It can be worn with the ends in the front and back, as pictured, or to the sides as a shawlet that drapes beautifully. It's an easy and quick weekend project sure to give you instant gratification.
NEW this Fall is the easy Garter Stitch Vest called Monet's Garden which features I-cord seams and I-cord trim. This functional but colorful vest will be worn again and again with its classic styling and flattering fit.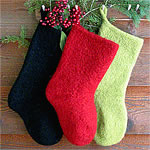 Aren't these the nicest looking Felted Christmas Stockings you've ever seen? Knit using large circular needles with Bulky wool yarn, this is a quick project with satisfying results. Make these in all different colors to fit family member personalities and decorate with special buttons or Holiday pins! Have fun!
---
To request wholesale information, email anniwool@annieswoolens.com.
---