Social Buttons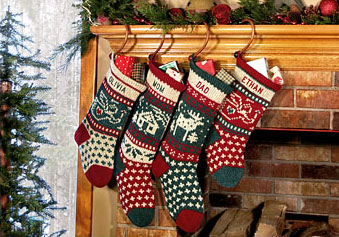 Choose from 14 classic original designs in the Annie's Woolens Knitted Scandinavian Collection. Personalized Stockings knitted with embroidered names make ideal home Christmas decorations that will be cherished for a lifetime by everyone in your family.
Personalized Knitted and Baby Angel Christmas Stockings hang on the mantle, adding old-fashioned holiday charm to Christmas decorations.

---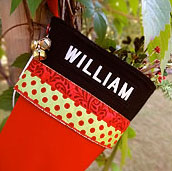 Showy swirls, velvety patchwork ribbon, polka dots and jingle bells all vie for attention on our NEW glittery and glamorous Personalized Glitz Christmas Stockings. Make them the centerpiece of your holiday decorating and bask in the rave reviews from family and friends at all your holiday parties.
Add more "Christmas Red"
to your mantle.
---
Don't forget our smaller personalized stockings for the Cats and Dogs in your life — because pets are family too!
"Bark! Meow! Woof Woof!" Your pets will purr with delight on Christmas morning when they spot the treasures in their Annie's Woolens stockings.
Celebrate newborn babes in your family with these smaller-sized Baby Angel Stockings. Optional date on back commemorates baby's first Christmas.
Especially made for the newborns in your family.
---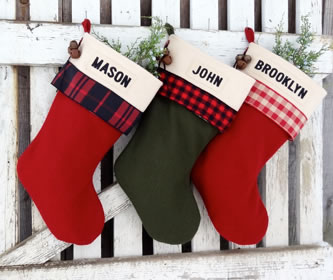 Away for the holidays? For Christmas at the cottage or cabin, mix and match these handsome designs — Lodge-Style Christmas Stockings, perfect for rustic wood or stone mantles and fireplaces.
The new Lodge-Style stockings from Annie's Woolens harken back to a bygone era, adding warmth and character to your hearth.
---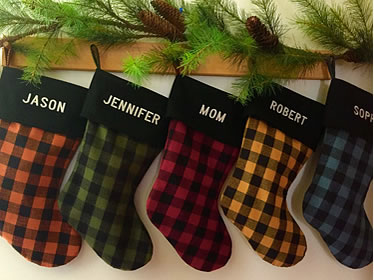 NEW to Annie's Woolens Personalized Stocking Collection are our hand sewn Flannel Buffalo Plaid Christmas Stockings. Celebrate an old-fashioned Christmas with these Buffalo Plaid Flannel Personalized Stockings reminiscent of the colors of Christmas lights! Mix and Match for a bright display on your mantle!
We have selected the highest quality flannel fabric — buttery-soft to the touch, intensely rich in color, and able to withstand all of the over-stuffing Santa and his Elves can achieve. Each personalized stocking is fully lined with a coordinating check cotton flannel fabric and features a professionally embroidered name of your choosing on the black wool cuff. MADE IN the USA on our premises in Eagle River, Wisconsin.
The simple warmth and durability of flannel make these Christmas Stockings last a lifetime.

---
Personalized Odds ' n Ends – Limited Quantity, Great Price!
Made with the same craftsmanship as our Lodge and Glitz stockings, our Odds'n Ends gems are in limited quantity. When we come across a specialized ribbon trims, they often are in limited quantity but we can't resist including them in our stockings. Choose from many designs and stocking colors. Enjoy the reduced prices.
Get them while they last!