Annie's Woolens Embroidery Services will end on April 1st. However, in order to provide continuity for those customers who are in need of personalization for their pre-made "blank" Annie's Woolens Christmas Stockings, I can now recommend new personalizing services.
I am pleased to announce that Chris Gaffron, owner of StitchIt, in Eagle River, WI, will be personalizing "blank" Annie's Woolens Christmas Stockings purchased by many of our customers. If you need a stocking personalized – either an Annie's Woolens Stocking OR a Stocking you have knit yourself using Annie's Woolens patterns – you can now have your stocking(s) personalized by StitchIt.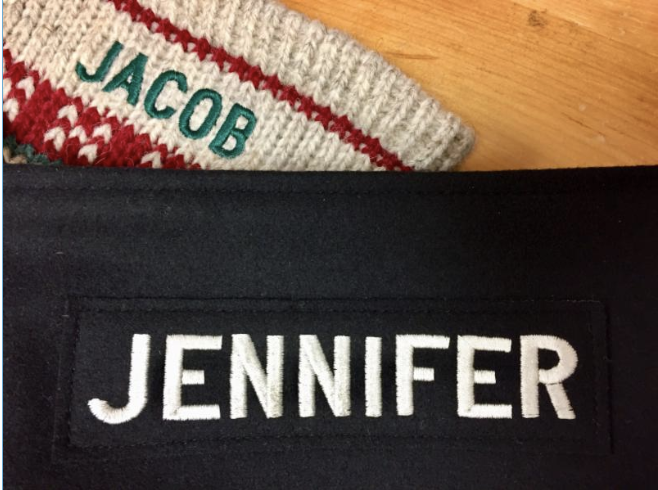 Please follow the steps outlined below to have your Stocking personalized:
Email Chris Gaffron to alert her that you will be sending a stocking to her. Let her know it's an Annie's Woolens stocking or a stocking you have knit using our patterns: cgaffron@hotmail.com
Send your stocking to the following address: StitchIt, C/O Chris Gaffron, P.O. Box 1478, Eagle River, WI 54521
With your stocking, please include the following: a note of instructions, ALL of your contact information. Phone number is critical so Chris can contact you with all charges including return shipping once work has been completed.
DEADLINE for Christmas 2022: Stockings need to be received by Chris no later than Dec. 9, 2022 for Christmas 2022.
Annie's Woolens has employed dedicated embroidery machines for Annie's Woolens stockings. Our turnaround time was exceptionally short as a result. StitchIt is a full-service embroidery shop. Therefore, turnaround times may be longer especially during the Holiday Season. To get an estimate of turnaround time, please call Chris at 715-891-0479.