In 1982, Anne Maillette and her family moved to Eagle River, Wisconsin to enjoy a simpler life. To keep her family warm during the bitter winter months, Anne began to knit wool sweaters and accessories for her husband and three daughters. What started out as a hobby soon became a cottage industry and her life's passion.
In 1988, Annie's Woolens was established with wool sweaters, earflap hats, and mittens as the featured products. Then in 1994, after years of selling her goods at local art shows and galleries, Anne moved to the Internet, which enabled her to share her wares with the global community.
More recently, Anne has moved beyond knitting wool garments. Wanting to make Christmas special for her family, she started designing and knitting Christmas Stockings. As her family grew, Anne welcomed each new member with a hand knit personalized stocking. To share this special tradition with others, Anne decided to make Personalized Christmas Stockings her main product. To date, Annie's Woolens has sold thousands of Christmas Stockings which have been shipped to all parts of the world.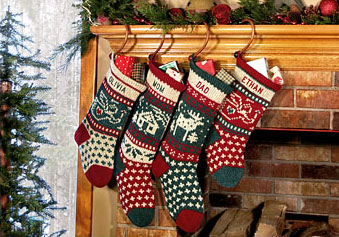 Each one of Anne's Personalized Christmas Stockings is designed, crafted, and packaged in-house…in the very same house she used to hand knit sweaters for her family. They're knit with 100% wool yarn, feature professionally embroidered names and available in 14 original Scandinavian designs.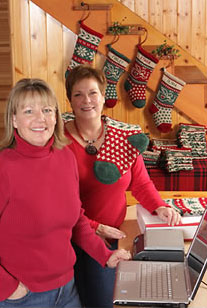 Along with sharing a Christmas tradition with the world, Anne also promotes the art of knitting through her own line of knitting patterns and kits. Kathy and Kris taking care of our busy shipping season. Now knitters of all experience levels can share the joy of making specialty items for their loved ones, and maybe even start new traditions of their own.
Annie's Woolens has received special recognition from the following:
Personalized LODGE stockings featured on the cover of Country Sampler Christmas 2014 magazine.
Featured article entitled "Knitting a Family Tradition" in the 2012 Holiday issue of The Cottage Journal/Christmas Cottage magazine.
Elegant Mohair/Wool Mittens pattern published in 2005 Knitting Pattern-a-day Calendar, Accord Publishing Ltd.
Moose Christmas Stocking knitting pattern published in Knitting for the First Time by Vanessa-Ann, Sterling Publishing Co., Inc. in 2003
Featured artist in December 2000 Wisconsin Trails Magazine in "Needful Things"article highlighting Christmas gift ideas.
Featured in Feb. 2000 Midwest Living article entitled "Warm Up in Style – Toasty Togs from the Northland"
Jan./Feb. 2000 featured artist in The Northwoods Woman article "A Good Fit for Her and Great for You"
Just as it started over 25 years ago, Annie's Woolens continues to be a family business. Her brother, Peter Oakley, is in charge of web design, and her daughters are involved in the production of Christmas Stockings, web design, and proofreading. Her husband, Michael, serves as chief cheerleader, for which Anne acknowledges deep gratitude.
For questions about Annie's Woolens products, please email: anniwool@annieswoolens.com