Social Buttons
Traditional Scandinavian Knitted Christmas Stockings
Heirloom-Quality Wool Knitted Christmas Stockings: Old-fashioned knit Christmas stockings add charm for the holidays. Begin a family tradition with some of the finest classic wool Christmas stockings on the Internet!
Click pictures for Stocking details.
Stockings: $59.95 each
Unique Scandinavian Designs: Choose from 2 remaining knitted Christmas designs. Each Christmas Stocking is of original design.
Hand Knit Quality: Each Christmas stocking is individually knit and hand-finished. 100% Wool. All Traditional stockings are made on our premises in Eagle River, WI.
---
Hand knit your family Christmas Stockings with Annie's Woolens Knitting Patterns and Knitting Kits!
---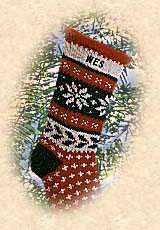 Display the personal touch for the entire family with knitted Christmas Stockings.
Choose names – up to ten letters. Professionally embroidered personalization.
Christmas Stockings Personalized make unique gifts…
Wedding gifts
Christmas gifts
Baby gifts