Social Buttons
Traditional Scandinavian Knitted Christmas Stockings
Heirloom-Quality Wool Knitted Christmas Stockings: Old-fashioned knit Christmas stockings add charm for the holidays. Begin a family tradition with some of the finest classic wool Christmas stockings on the Internet!
Click pictures for Stocking details and ordering.
Stockings: $54.95 each
Unique Scandinavian Designs: Choose from 8 knitted Christmas designs. Each Christmas Stocking is of original design.
Hand Knit Quality: Each Christmas stocking is individually knit and hand-finished. 100% Wool. All Traditional stockings are made on our premises in Eagle River, WI.
Want to view our newest stocking brochure? Email us your mailing address (we'll mail it right out to you) OR email address (we will attach it to an email) to: anniwool@annieswoolens.com
---
Hand knit your family Christmas Stockings with Annie's Woolens Knitting Patterns and Knitting Kits!
---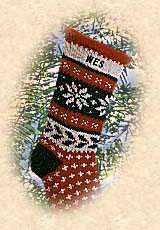 Display the personal touch for the entire family with knitted Christmas Stockings.
Choose names – up to ten letters. Professionally embroidered personalization.
Christmas Stockings Personalized make unique gifts…
Available in 14 unique designs.
Wedding gifts
Christmas gifts
Baby gifts